From Confusion to Clarity: The Role of Career Counseling
Picking a career isn't just about getting a job. It's finding what you love, what you're good at, and where you want to go. Nowadays, there are so many jobs out there, thanks to tech and changing work lifestyles. But this also means many of us get lost, worry about making wrong choices, or feel the weight of what others expect from us. That's why career counselling is becoming a big deal. It's like getting a roadmap from someone who knows the terrain.
So, who is a Career Counsellor?
How are they different from a mentor or a career coach? Well, a career counsellor helps you figure out what job suits you best. They're trained to see where your strengths and passions lie. A career coach? They're more about helping you get to a job you already have in mind. And a mentor? They're people from your field who share their own experiences to help guide you.
How Career Counsellors Help?
Think of seeing a career counsellor like going on a self-discovery trip. They help match your strengths and likes with jobs out there. Let's break down how they do it:
• Test and Quizzes
• One on one sessions
• Career Exploration
• Goal Setting
Tests and Quizzes
What's it for? The foundation of career counselling lies in gaining a thorough understanding of the individual; who you are, what drives you, and where your strengths lie. Psychometric Tests and assessments provide objective, quantifiable data that helps in forming a comprehensive picture.
How's it done? They might have you take a few tests, each looking at a different part of you.
• Strong Interest Inventory:
What's it for? These are designed to gauge one's interests in various activities, professions, and sectors.
How's it done? The Strong Interest Inventory, for instance, compares an individual's interests with those of professionals in known careers, providing insight into potential career matches. It can reveal industries or roles you might never have considered but align with your passions and interests.
• Personality stuff (like the Myers-Briggs):
What's it for? To understand the inherent traits and tendencies that dictate how you might interact with the world around.
How's it done? Myers-Briggs puts people in 16 personality groups based on how they think and decide. It can show jobs that fit you, so you're not just doing well, but you're happy too.
• Aptitude and skills tests:
What's it for? To see what you're naturally good at or skills you've picked up.
How's it done? These tests can range from evaluating cognitive abilities, like problem-solving or analytical reasoning, to specific skill sets related to particular industries. By understanding where one's competencies lie, career counsellors can make more tailored recommendations, ensuring individuals not only enjoy their job but excel in it.
Bottom Line:
Career counselling is not about dictating a set path but rather about illuminating possibilities that align with an individual's profile. Through a combination of interest inventories, personality assessments, and aptitude tests, counsellors create your work profile, which subsequently acts as a compass, pointing towards careers where you can both succeed and find fulfilment.
One-on-One Sessions with Career Counsellors:
Deep Dive Conversations
: Career counselling isn't just about tests. It's about those one-on-one talks that let you open up. Here's what they get into:
Your Story So Far:
Why? To get the full picture of you, way more than what any test can show. It's about your ups, downs, wins, dreams ..to build a holistic understanding of you.
How? They'll listen, ask questions, and dig into your education, hobbies, old jobs, big moments, goals, and even past setbacks. This retrospection helps in mapping out a future trajectory that's not just aligned with one's skills, but also resonates with your life story and future ambitions.
The SWOT Chat:
Why? It's about knowing your good bits, stuff to work on, where you can shine, and what might stand in your way.
How? Together, you'll:
Spot strengths: What are you naturally good at? What skills or qualifications set you apart? Point out weaknesses: What could you get better at? Are there skills you need to develop? Anything you're missing?Spot opportunities: Any new jobs or fields out there for you? Got contacts that could help? See threats: Are there external factors like market downturns, saturation in desired job roles, or other barriers you should be wary of? How can you mitigate these threats?
By amalgamating the insights from these discussions with the data from assessments, a career counsellor paints a comprehensive picture of the individual. This, in turn, enables them to provide guidance that's not just theoretically sound but also deeply personal, ensuring that the suggested career paths are truly in alignment with the individual's essence and aspirations.
Career Exploration:
Career Deep Dive
: One of the most empowering stages of career counseling is the phase of career exploration. It's an expansive process that broadens horizons and introduces a world of possibilities.
Introducing various industries and job profiles:
Why? The contemporary job market is a dynamic and ever-evolving entity with new professions emerging regularly. Many individuals, especially those just starting out, might not be aware of the myriad opportunities available to them.
How? Career counsellors leverage their in-depth knowledge of the labour market to introduce individuals to various sectors, industries, and job roles. This involve: Sharing industry reports, trends, and forecasts. Discussing the intricacies of specific roles, the skills they require, and their potential growth trajectories. Highlighting niche professions or emerging industries that might be lesser-known but could be a perfect fit for the your profile.
Matching your profile with potential career paths:
Why? After gaining insights into an individual's strengths, aspirations, and personality, the challenge is to align this personal profile with fitting career paths. This ensures that one's chosen profession resonates with their intrinsic motivations and leverages their unique strengths.
How? They'll: Cross-reference the results from earlier assessments and discussions The process also involves weighing practical considerations, such as job market demand, potential earnings, and required qualifications or training Give you a list of jobs to think about, not just one. It's not about zeroing in on a single profession, but more about creating a curated list of potential careers that resonate with your profile. This gives the individual the freedom to explore multiple avenues before making a well-informed decision.
To Wrap it Up
: Think of career exploration like sailing a huge sea but with a pro captain guiding you. Sure, the sea of jobs is big, but with your counsellor, you'll find the spots that feel just right for you. It's all about finding out, figuring out, and feeling confident about your next move.
Setting Goals: 
•
The Goal Game
: Alright, let's talk goals in career counselling. Think of goals like your GPS – they show you where you're headed and keep you pumped. •
The Now Goals:
Why? Short-term goals serve as immediate milestones. By breaking down the journey into manageable steps, you feel more in control and able to track your progress with clarity.
How? The counsellor identifies actions that can be achieved within a shorter timeframe, typically ranging from a few months to a couple of years. This might involve enrolling in a specific course, attending workshops, securing internships, or aiming for an entry-level position in a chosen field.
• The Future Goals:
Why? This is the big picture – where you see yourself in the long run. They represent where one hopes to be several years down the line, encompassing significant milestones like reaching leadership positions, achieving certain accolades, or even changing industries.
How? The counsellor facilitates a deep introspection, encouraging the individual to visualize their desired position in the distant future. Together, they chart out a trajectory, considering potential challenges and opportunities that might arise along the way..
In a Nutshell:
Setting goals isn't about a wish list. It's your personal game plan. With the counsellor as your coach, you'll map out steps that feel right for you – from the quick wins to the big dreams. And the best part? They'll help make sure those dreams are both awesome and doable. So, let's get started!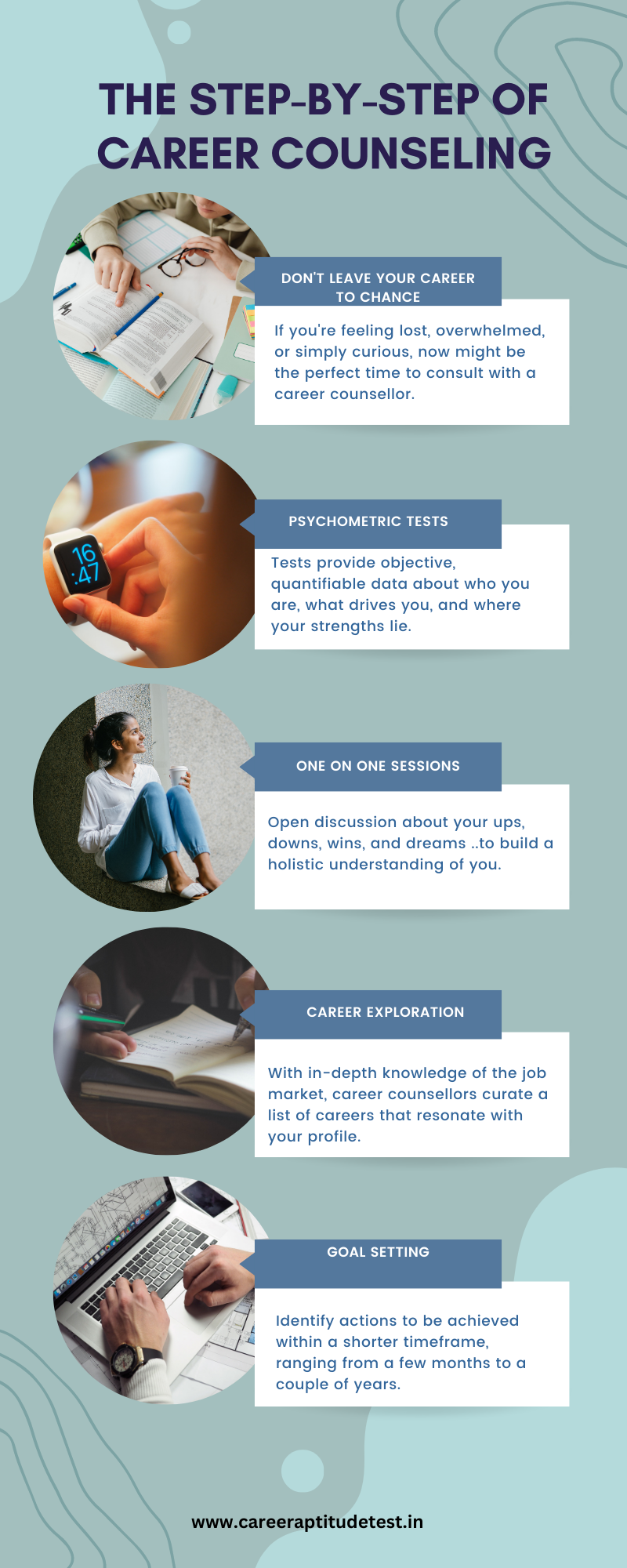 Benefits of Consulting a Career Counsellor
Get Clarity and Direction:Feeling lost with all the job options out there? Counsellors help break it down, showing you what fits your vibe and strengths. End result? You move forward with purpose, knowing you're on the right track.
Eliminating Confusion and Narrowing Down Options:Tons of jobs out there, right? But more isn't always merrier. Counsellors help filter out the noise, so you can invest your time and energy more effectively, ensuring that your efforts yield more fruitful results.
Objective Feedback:Personal biases or the influence of peers and family can cloud judgment.. Counsellors keep it 100% real. They give you feedback based on facts and their knowledge, not just what Aunt Karen thinks.
Personalised Strategy:Everyone's journey is unique, shaped by distinct experiences, aspirations, and skills. They help plan a career path that feels right for you, not some one-size-fits-all deal.
Networking Opportunities:Career counsellors often possess an extensive network of industry professionals, alumni, and resources. Engaging with a counsellor can provide individuals access to this valuable network, opening doors to potential employers, mentors, or industry-specific insights.
Continuous Support:The journey doesn't end once an individual identifies a potential career path. Career transitions, job searches, interviews, and even on-the-job challenges can arise. Counsellors offer ongoing support, providing guidance, resources, and encouragement at every step.
To Wrap It Up:
 Engaging with a career counsellor is akin to having a seasoned co-pilot on one's professional journey. Their expertise, insights, and support can transform challenges into opportunities, uncertainties into clear strategies, ensuring that the road to one's dream career is both enlightening and fulfilling.
Case Studies: Real-Life Success Stories
Maya: From Math Whiz to Data Guru
Before: Maya graduated with a math degree. Loved numbers but didn't know where that could lead. Teaching? Finance? Big question mark.
Help from the Pro: Maya's counsellor found out she was a tech nerd at heart and loved solving puzzles. Enter: data science. Together, they set a game plan with courses and workshops.
Now: Maya's out there at a cool tech company, using data to crack real-world puzzles.
Alex: From Selling Stuff to Saving Trees
Before: 10 years in marketing. It paid well, but Alex felt something was missing. He wanted more than just profit; he wanted purpose.
Help from the Pro: Alex's counsellor dug deep. They found his sweet spot: community and environment. Alex got the lowdown on non-profits from folks in the know.
Now: Alex uses his marketing chops to boost an environmental charity. He's all about making a difference now.
Priya: From Banking to Brush Strokes
Before: Priya was counting cash, not canvases. Her arts degree? Just a memory. But her love for art? Still there.
Help from the Pro: Priya's counsellor saw her passion. They brainstormed ways to mix business with art. Idea: Why not run an art gallery?
Now: Priya's the boss at her own gallery, bringing artists and art lovers together.
Bottom Line:
 No matter where you're at, career counselling can be a game-changer. It's like having someone in your corner to help you figure things out and chase what you really want. Who doesn't want that?
Don't leave your career to chance. Take proactive steps today!
Seek Guidance: If you're feeling lost, overwhelmed, or simply curious about the myriad of professional opportunities out there, now might be the perfect time to consult with a career counsellor. Their expertise can provide you with clarity, direction, and a plan tailored specifically for you.
Start Today with Career Aptitude Test
Renowned for their comprehensive assessments and experienced counsellors.
Offers specialized guidance for mid-career shifts and industry-specific advice.
Ideal for those looking to explore unconventional careers or entrepreneurial pursuits.
Taking charge of your career path doesn't mean going it alone. Harness the power of professional guidance and set yourself on a trajectory toward success, satisfaction, and fulfilment.
Dive into the world of career counselling and unlock your potential. Your dream job might be just around the corner!