Malayali women turn icons of anti-CAA student protest
Dec 17, 2019, 10:30 IST | TNN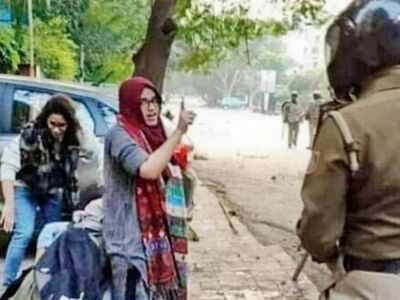 KOCHI: Two images of youth brimming with courage and idealism have gone viral online over the past few days. Both show women protesters of Jamia Millia Islamia, who hail from Kerala and now poster girls of the student protest spreading across India. While a photograph has the two Ayesha Renna and Ladeeda Sakhaloon shouting slogans from atop a wall while addressing protesters, a video clip shows them shielding a male friend from the brutal blows of the police.
Ladeeda Sakhaloon. (Image taken from her FB account)Ladeeda said the police assault on their friend and college senior Shaheen happened when they tried to take refuge in a building. "I was out of breath because of the teargas fumes and they were trying to nurse me when the cops suddenly pulled Shaheen and beat him up," said Ladeeda, a first-year student of BA Arabic.
Ayesha Renna, Ladeeda Ladeeda and Ayesha, both 22, are part of the protest committee formed on the campus to agitate against the Citizenship Amendment Act. Both of them took beatings from the cops as they tried to save Shaheen.
Ayesha, a second-year MA History student, who is seen in the video daring the cops who beat Shaheen, said they have strong reasons to believe outsiders had merged with the police to foment trouble. The video that went viral shows a man clad in blue jeans and red shirt raising his lathi to strike them.
"There were a lot of people not in uniform and we suspect they are not policemen. And they were also quite brutal in the way the beat up students. Normally male police officers are not allowed to hit women," said Ayesha, who had to take treatment after the police assault. Countless students were injured and most of them were on campus to prepare for a UPSC test, she said. "None of the students had any weapons or kerosene. We were in the back when the protests broke out and do not really know if anything happened in the front. But I can tell you there was absolutely no provocation on the part of students," said Ayesha.
Download The Times of India News App for Latest City News.